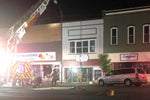 Thank you for your support!!
I'm not sure where to begin. For those of you that do not know, our neighbor Tanks Pet Supply suffered a fire last night. Some animals were lost but many were saved. Unfortunately, the smoke from the fire entered our building and we were unable to get anything out.
I am beyond thankful to Chief Wooley and Lt. Welte and every fire fighter, police officer, paramedic, City of Princeton electric department and everyone in between for their amazing work last night!
I also want to say thank you to Spoons staff and customers! If you had not seen the smoke and called 911 when you did, this may have been a very different story. I know I will forget people and I am so sorry for that!
While we don't know the full extent of the damage or where we go from here to start repairing, I do know that we will do whatever it takes to get the store back up and running as fast as we can! Thank you for being patient with us while we figure this out!
I also want to say thank you to everyone in the community! I watched people helping Tanks and Songbird get all their stuff out and I received more hugs than I could count. I have received more messages than I could respond too with words of sympathy and encouragement. My heart is happy knowing that I live in such an amazing community!
I will keep everyone updated once we know more and where we go from here. THANK YOU
NOTE - our website shopping cart is disabled.  You can browse products but you will not be able to purchase anything until we have things remade and back in stock!